RJ11 connectors and RJ45 connectors are commonly used electronic products in daily life, and both have a variety of models and specifications, so do you know which standard type of RJ11 connector and RJ45 connector is? The connector engineers of our company mainly introduce the standard models of RJ11 and RJ45 connectors.
The standard model of RJ11 connector is 6P2C RJ11 connector, which is a 6-position 2-contact modular connector. The RJ11 connector is often used as a telephone cable connector, and can also be used as a connector for dial-up modems, which can operate at data speeds of up to 56 Kbps.
The standard model of RJ45 connector is 8P8C RJ45 connector, which is 8-position 8-contact modular connector. The RJ45 connector is famous for being used as an Ethernet cable connector, which can be used for all types of Ethernet cables, including Ethernet (10 Mbps), Fast Ethernet (100 Mbps) and Gigabit Ethernet (1 Gbps) .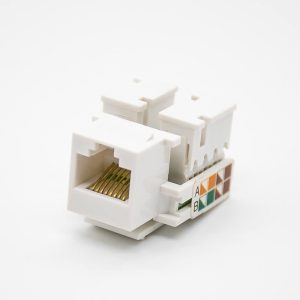 The standard models of the RJ11 connector and RJ45 connector explained above are shared here. If you want to understand other aspects of the connector industry, you can follow the official website of Dosin Hardware Electronics Co., Ltd. Dosin Hardware Electronics Co., Ltd. is a professional connector manufacturer of precision connectors and wiring harnesses integrating R&D, production, sales and service. It has 20 years of expertise in high-quality connectors, header and female connectors, and simple The production and development of bull horn connectors, D-SUB connectors, RJ45 connectors, FPC connectors, USB connectors, connecting wires, terminal wires, injection molding wires, various electronic wiring harnesses, etc. The product variety has more than 20,000 kinds, which is fully capable Meet the needs of various high-end customers.
https://www.dosinconn.com/wp-content/uploads/2020/10/55922.jpg
1000
1000
dosinen
https://www.dosinconn.com/wp-content/uploads/2019/03/dosinconn-Logo-EN.png
dosinen
2020-10-26 10:00:52
2021-02-19 06:06:42
Standard type of RJ11 connector and RJ45 connector